Chabot Space & Science Center, Rebrand
While the Graphic Designer for Chabot, I rolled out a Center-wide rebrand. This began with a refresh of Chabot's logo, and extended to redesigning the Center's website from the ground up chabotspace.org, creating exterior and interior wayfinding signage, Center maps, membership onboarding, and general marketing collateral.
Example Chabot Ad
San Francisco Chronicle Publication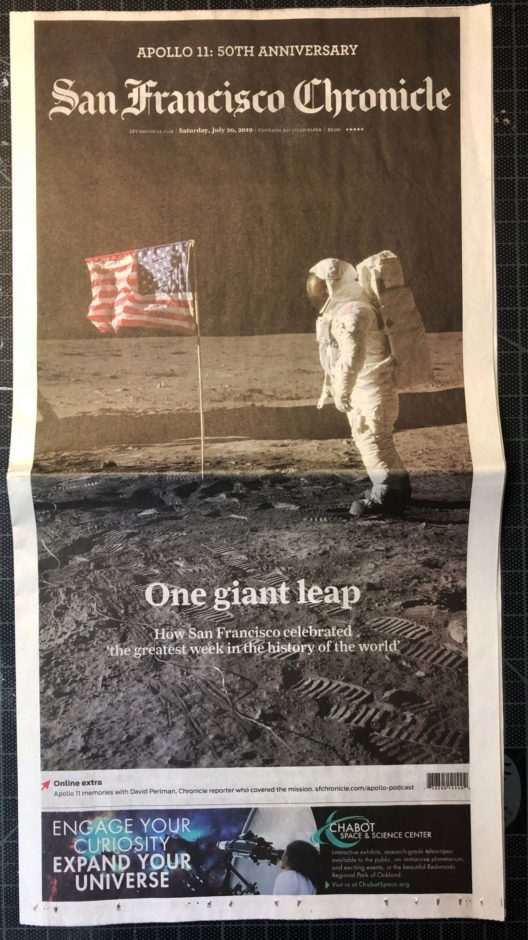 Center Brochures
Chabot has been located in Redwood Regional Park in Oakland since 2000, in a beautiful, spacious three-level building designed with all of the Center's needs in mind. The Center previously did not have wayfinding maps at the front desk to guide visitors and provide them with general information, so I took on this project.
WordPress Site
I managed the design and implementation of Chabot's new website, in collaboration with Chabot's marketing team. I worked with the Web Development firm Hyperarts, who built the site in WordPress. The site is now better able to convey the dynamism of the Center, and the breadth of events that are hosted at Chabot.
Interior Wayfinding Banners
Exterior Wayfinding
Chabot's campus signage was in dire need of an update, damaged over the years, and no longer on brand. Using Chabot's new teal "Cha-blue" which I'd established, Futura font, and the Saturn emblem, I created 4 signs across the campus. The largest sign has a slight curve to it, and is positioned just outside the gate to Chabot's Observatory, along with a framed wayfinding map. The type is a reflective vinyl that is visible in the evening with car headlights and flashlights, for the many visitors who come up to Chabot to use Chabot's telescopes.
Courtyard Garden Sign, Illustration
Membership Onboarding Materials